The All Pro Dad chapter at Westlake is sponsored by our Parent Advisory Council (PAC).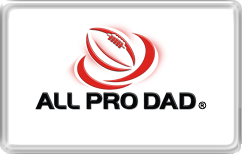 The Westlake chapter of All Pro Dad sponsors a monthly before-school meeting at which Westlake dads and their kids enjoy a good meal together, participate in guided discussions on a wide range of family topics, pray together and build relationships with each other and other Westlake families. All Westlake dads are welcome to join us!
To learn more about All Pro Dad at Westlake, contact the school office.
About All Pro Dad: All Pro Dad is an innovative nationwide program helping men to become better fathers. All Pro Dad has 54 NFL spokesmen, multiple events with NFL teams, 1,000 All Pro Dad's Day chapters, and Play of the Day daily emails that reach 40,000 fathers each day. To visit the All Pro Dad website, click the All Pro Dad logo above.